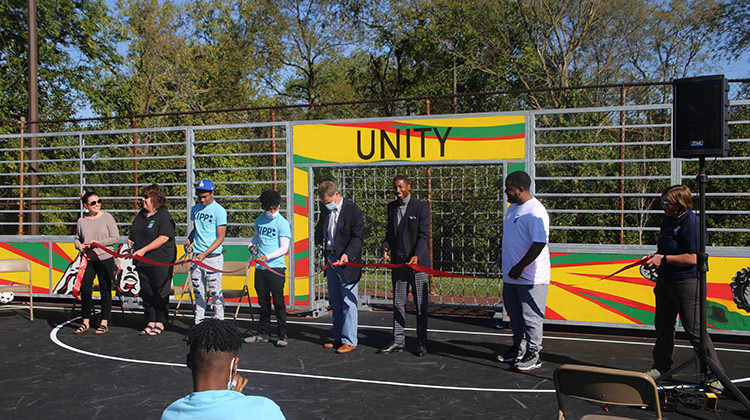 A new public soccer field was unveiled Friday at Oscar Charleston Park on the northeast side of the city.
The mini-pitch was installed as part of a nationwide initiative to give young people of color equal access to sport. It was built to honor the groups Black Players for Change and the Black Women's Player Collective. The two groups have partnered with Adidas and the US Soccer Foundation for the Mini-Pitch Initiative, a project to build mini soccer fields in underserved neighborhoods to remove barriers for children who don't have access to sport.
Among the city officials and local students present at the opening celebration was Ray Gaddis, a former professional football player and Indianapolis native. Gaddis is a member of Black Players for Change.
"It's a tremendous achievement to be able to bring football to neighborhoods that may not have access to it, just because football can be an expensive sport," he said.
The gates around the field are painted with vibrant murals of black icons, including the park's namesake and Baseball Hall of Famer Oscar Charleston and World Cup champion Briana Scurry.
"We're not just giving a history lesson, we're using the vehicle of football to transcend this community," Gaddis said.
Indianapolis Mayor Joe Hogsett, who also spoke at the celebration, said he plans to continue investing in city parks.
"These parks are important to every family in the city of Indianapolis," Hogsett said. If they're important to our families, they're important to our city.
The mayor emphasized that as part of the Indianapolis Parks Upgrade initiative, developments must be done in an equitable manner. Prior to the installation of the field in Oscar Charleston, the nearest public football field was over three miles away.
"Every kid in Indianapolis deserves access to a place where, if they choose, they can participate in the most popular sport in the world," Hogsett said.