Migrant workers and community members gather for a tournament
Content of the article
Migrant workers, farm owners and community members gathered at the Simcoe soccer field on Sunday.
Content of the article
Nine teams – each with 16 to 20 players – from farms in Norfolk played matches at Norfolk County Youth Soccer Park on West Street as part of the annual Farms of Norfolk Football Association tournament.
"We only had (the tournament) for two years before COVID, so it's a rebuilding year," said Carrie Sinkowski, community developer for the Brant-Haldimand-Norfolk Community Legal Clinic. "We tried to expand it this year beyond football games to have face painting, food trucks and bouncy castles to encourage more people to get their families out for the day."
She said the idea for the tournament came about after people who do outreach on farms or provide community services to migrant workers shared that many farm workers wanted more opportunities for community engagement.
Content of the article
Football was one of the ideas.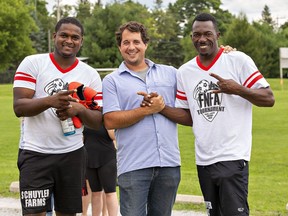 "For the workers, it's a great thing to do and it's nice to see the support from the community," said Brett Schuyler, owner of Schuyler Farms northeast of Simcoe. "The level of play is impressive. It's just mean.
Schuyler built a soccer field on his farm for the enjoyment of his workers.
"It's my life," he said. "I grew up on the farm with all the guys and all the women. You work hard and play hard.
Cemore Gordon, from Jamaica, has been coming to Ontario to work on farms for nine years.
The 45-year-old Schuyler Farms supervisor noted that although most of his colleagues are from Trinidad, Jamaica or Barbados, they feel like one family.
"Mr. Brett is the best boss ever," Gordon said. "And this tournament brings us even more joy, and (the chance) to meet new people as well. have fun.
Content of the article
Like many migrant workers, Gordon comes every year to work on local farms to help pay the bills and provide food and medical coverage for his family back home.
He noted that he earned more in a week than a nurse or a policeman is paid in Jamaica.
"We consider ourselves lucky," he shared. "For us, it's gold."
Gordon said he and his colleagues don't view farm work as hard work, but rather as fun and physical exercise.
"I go home and I feel good," he said. "You have to love what you do, put your heart and soul into it, with a good sense of humor too.
"They treat us with love and respect, and if we need help, they are there for us."