Chaminade's Luke Ponciroli loves the nickname 'Chef' given to him this season. It is a badge of honor that he wears proudly.
"Chef is a nickname that our team managers came up with," said the Red Devils second-year. "They have funny nicknames for everyone in the team. I was told it was because I like to cook up goals and assists. I like it because it represents my mentality."
His ability to 'prepare' assists and goals has helped Chaminade recover from a slow start to the season. The Red Devils have registered just three wins in their first nine games. However, the team came together and started winning. Chaminade finished the regular season winning its last 13 games and headed into district play with momentum.
Ponciroli is already a record holder. The 5-foot-10, 140-pound player set a single-game record earlier this fall when he registered four assists in a game. It is something he is rightly proud to have accomplished.
"I love being a playmaker and happy to have an all-time Chaminade record. However, I feel like there is always room for improvement and I aim to beat this record again," Ponciroli said.
In the long history of Chaminade football, no one has ever accomplished this feat.
Coach Mike Gauvain, in his 35th year with the Red Devils, said it had never been done before because it's hard to do.
Ponciroli is in his first year at Chaminade. Last year, he played for the St. Louis Scott Gallagher U16 Academy team, which played in the next MLS league.
"My decision to leave the next MLS system and play high school football was very difficult," Ponciroli said. "I played with the same club for over 10 years and have many great memories. Last spring I played for the Chaminade varsity lacrosse team. I loved the environment and the "opportunity to play with my classmates for my school. My real passion is football and I wanted to have that same experience for Chaminade."
Gauvain welcomed Ponciroli to the program this fall. He plays on the left wing but is flexible so Gauvain can play him on the right wing, in central midfield or even in defensive midfield.
The record assists came in a 5-1 win over Saxony Lutheran in the Junior Billiken Classic.
"I go into every game thinking it's the most important game I'll ever play," Ponciroli said. "As soon as I step onto the pitch, I don't think about how the other team is playing. I just focus on my team and how I can do my best personally. I adopted the same attitude in the game against Saxony."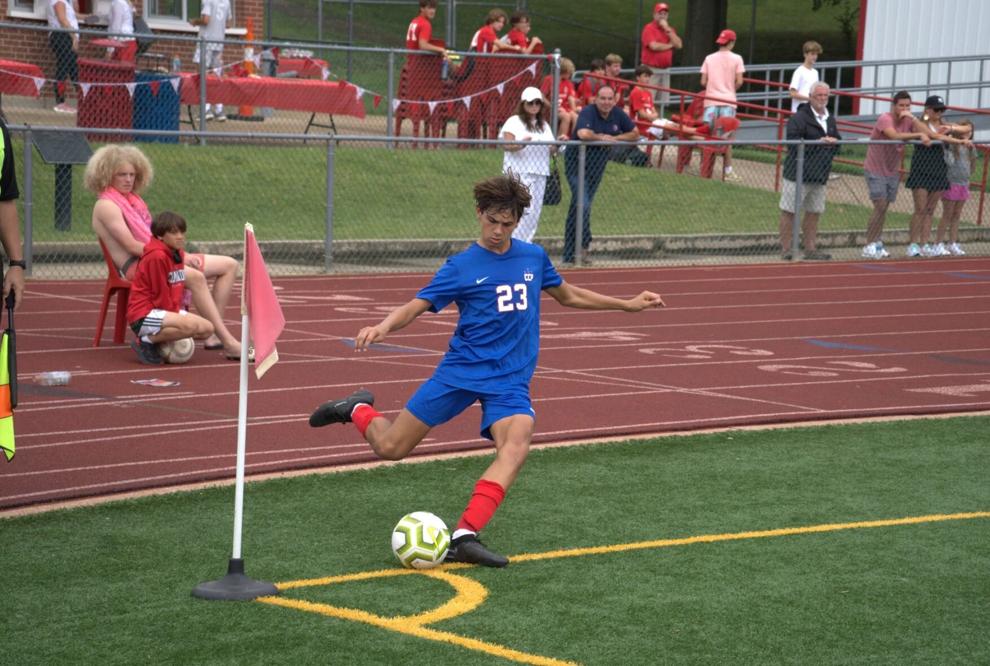 Prior to this game, Ponciroli has already recorded two assists in a game. This happened when he played for Gallagher in a game against the Chicago Fire. Gallagher won that game 2-0.
Ponciroli's first assist went to senior Giovanni Gabriele, who scored from a header inside the penalty area. Gabriele is the team leader in scoring goals. The second assist went to senior captain Johnny Schlattmann.
"It was another solid cross from the bottom of the left corner and another great finish with the inside of his foot in the penalty area," Ponciroli said.
The third assist came in junior Noah Finley, who has been solid in midfield this year for the Red Devils.
"I received the ball at my feet in midfield by Charlie Berry and took my first touch down the left line to beat the defender," Ponciroli said. "Then I slid the ball into the mouth of the goal as Noah had a great run finishing the ball past the keeper."
Ponciroli was aware that he had registered a hat trick in assists.
"The moment I got three assists, I thought to myself that I had done it," Ponciroli said. "I broke my personal best. It was a great day as my teammates and I were playing together and having fun on the pitch."
But there was an encore for Ponciroli.
Chaminade fired a corner late in the second half. Schlattman took the corner kick and played "a nice ball down the line to my feet," Ponciroli said. "I gave it to Gabriele, who buried a great shot in the top right."
Gauvain accepted.
"They were all beautiful crosses or passes," Gauvain said. "He's sneaky over there."
Ponciroli can also score. In a game at Springfield against Kickapoo, he scored the winning goal in double overtime to secure a 2-1 victory for the Red Devils.
"The goal against Kickapoo was a great experience," Ponciroli said. "I stole the ball from a Kickapoo defender in left midfield and beat the next two defenders moving to my right foot inside the pitch. I took the shot from
a bit out of the 18-yard box and buried him in the bottom right corner."
Naturally, his teammates were delighted.
"Everyone rushed towards me. We were all happy and cheering that we had just won a big game in double overtime," Ponciroli said. "It was a tough battle between us and Kickapoo, but I think we wanted it more. We played together and that's why we came out of the game with a win."